Life insurance protection with advice from ACC Associates advisors
Dealing with the unfortunate loss of a loved one is never easy and adding financial burden to the grief can make coping all the more difficult for you – this is where life insurance comes in.  By having the right financial provision in place, you can make money one less thing to worry about at an already stressful time.
You can help to support your family and loved ones if you die prematurely by taking out life insurance. There are a number of areas life insurance can help ensure your loved ones can continue to live in the family home and avoid losing their lifestyle and future dreams such as studying at university and replacing the primary salary.
Whether it's important to you that your family can maintain their standard of living or just ensuring you don't leave any debts behind, it's clear there are many reasons to find the appropriate life insurance for your personal circumstances.
Below we describe the main types of life insurance we offer to helps meet your needs. You can also call us on (01249) 599019 to start your insurance search and take advantage of our broker and advisor service.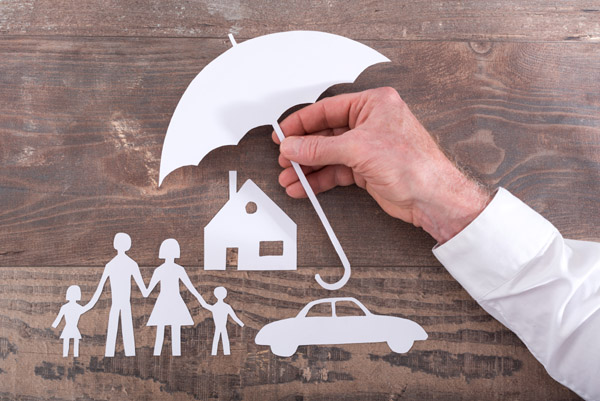 Life insurance cover in more detail
Life cover (also known as decreasing term assurance or level term assurance)
This is a life insurance policy providing a lump sum on death and is normally used to pay off a mortgage. This is the cheapest and simplest form of life insurance. You insure yourself for a set term – until a loan or mortgage is paid off for example. It doesn't contain any investment element. If you don't die within the life insurance term, you receive nothing – you could liken this type of policy to your home insurance or motor insurance. There is no final end sum paid out at the end of the life insurance term.
These types of life insurance policy can either be level or decreasing over the term of the policy. With a level policy if you die on the first day of the policy, the beneficiary would get exactly the same sum as they would if you died near the end of the policy. A level term policy would normally be used to protect a mortgage debt where the mortgage repayment basis is interest only (where the mortgage debt remains the same throughout the mortgage term). A decreasing term assurance policy on the other hand, will pay out more at the beginning of the policy than it would at the end. This type of policy would normally be used to protect a mortgage debt where the mortgage repayment basis is capital and interest (or repayment) where the sum assured will decrease in line with the mortgage debt outstanding.
If you'd like to know more about life insurance then call us on (01249) 599019 where you'll receive life insurance advice from a fully qualified insurance advisor. To learn more about how life insurance can secure your loved ones' future read on.
Family income  benefit
Family income benefit provides a regular, tax-free, monthly income or annual income for your loved ones in the event of death – from the time of the claim to the end of the plan term via a life insurance policy. For example, this type of insurance policy could be used to ensure your children or dependents continue to live in the same way they have become accustomed to and where you can ensure they will not financially lose out on their education following the loss of you or your spouse/partner. For example, to ensure your family would receive a regular income to support the cost of living and sending children to University perhaps, you could commence a policy which ends when you would expect your youngest child to no longer be in full-time education. An example of a family income benefit insurance plan is: Plan Term – 21 years. Time claim made – after 14 years. Benefits paid – for the remaining 7 years. This is why family income benefit insurance often costs less than life insurance.
What to do next to receive life insurance advice
Getting a quote and insurance advice is an important part of finding the right insurance for you. This is easily done by either calling us on (01249) 599019 where you can take advantage of the ACC Associates insurance advisor service.